Surrey Police to use off-road motorbikes to stop crime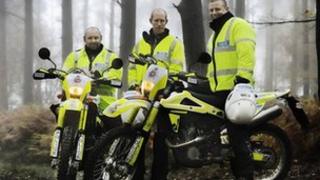 Police are to start a six-month trial using off-road motorbikes to catch criminals in remote parts of Surrey.
Three officers secured funding themselves to patrol their beats in Mole Valley.
The six-month trial, which will begin on Monday, is an attempt to crack down on rural crime.
The officers hope the bikes will enable them to patrol areas that have been traditionally inaccessible by car or on foot.
PC Mark Trezise, PC Jason Woods and PC Dominic Loraine put together a business case to raise funding.
PC Woods said: "As this is a first for Surrey Police we had to raise money, get local support, convince senior management it was a good idea and sustainable and then write procedures, sort out health and safety, source bikes, source training, then get trained - the list goes on."
The officers will now be able to patrol byways, bridleways and some footpaths more effectively.
It is hoped the bikes will lead to a reduction in anti-social behaviour and rural crime, such as poaching and thefts from vehicles at beauty spots.