Firefighters welcome new station for Guildford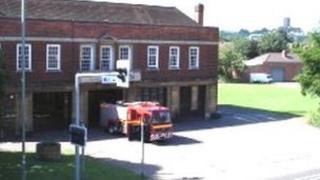 Firefighters have welcomed plans to build a new fire station to replace a dilapidated building in Guildford.
Surrey County Council (SCC) said the building, on the same site as the existing fire station at Ladymead, would have better training facilities.
It said it expected to submit a planning application to Guildford Borough Council by the end of the year.
"The existing building is so bad it is not far off being condemned," said Fire Brigades Union secretary Richard Jones.
SCC originally wanted to sell the Ladymead site to property developers, with a new fire station as part of the deal.
Rescue techniques
It was taken off the market earlier this year after no buyer came forward.
The new building will now be funded by SCC, which is also the fire authority, but it hopes to be able to sell the residual land at a later date.
Councillor Kay Hammond said the new building would reflect the changing demands made on firefighters.
"These days they are called to more road accidents than in the past so providing better training facilities to practise rescue techniques could help save lives," she said.
Mr Jones said the union welcomed plans to replace Guildford fire station, which was one of several older buildings in Surrey in a dilapidated state including Farnham, Camberley and Chertsey.
A spokesman for SCC said it was unable to disclose the cost of the new building while commercial negotiations were under way.