Cleanliness criticised at Frimley Park Hospital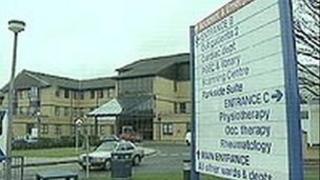 The poor care of an elderly patient at a Surrey hospital has been highlighted in a report by the Patients Association.
Frimley Park Hospital has been criticised for its care of stroke patient Jessie Thayer in 2010 and 2011.
Mrs Thayer's daughters complained after seeing their mother left with dirty fingernails, teeth and clothes.
Frimley Park Hospital said it had apologised to Mrs Thayer's family and said it was making improvements.
In 2010 Mrs Thayer's daughters, Angela Perry and Sally Fothergill, complained about their mother's care at Frimley Park Hospital.
The sisters said it was very difficult to get any information on her condition and treatment, her hands were not washed properly and a dressing on one of her toes was not changed.
'Hugely distressing'
When Mrs Thayer was admitted again to the hospital in March 2011 her daughters found the level of care had not improved since their complaint.
They said their mother incurred several injuries; a gash to her arm when she fell while being helped out of bed, a pressure sore and a cut to her leg when a walking frame fell on her.
Cleanliness of their mother and her clothes was also a constant issue.
In the Patients Association report Mrs Thayer's daughters said: "We found it hugely distressing to find her with dirty fingernails and dirty teeth. She also had food all over her clothes."
Mrs Perry and Mrs Fothergill also reported that the attitude of some of members of staff made them feel unwelcome on their mother's ward.
Frimley Park Hospital said it apologised to the family of Mrs Thayer and in a statement said: "We are particularly concerned that Mrs Thayer's daughters observed some staff on occasions behaving in an unhelpful way.
"This is not tolerated by the trust and we will take action when staff can be identified."
Mrs Thayer's daughters said, following the handling of their second complaint, their faith in the hospital had been restored.