Staines Football Club knocks plan to change town's name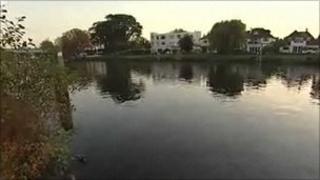 Plans to rename Staines as Staines-Upon-Thames have been criticised by the town's football club.
A public consultation into changing the town's name finished on 31 October.
Spelthorne Borough Council claimed the change would boost the town's economy and end negative perceptions connected with it.
But Steve Parsons, secretary of Staines Town Football Club, said the name was part of the "fabric" of the Surrey town.
"I don't see anybody making any money - any change like this is costly," he said.
"One of our supporters said it wouldn't put Staines on the map, because the name will be twice as long and it won't fit."
The results of the consultation will be presented to the full council on 15 December.
Mr Parsons added: "I've a great objection to changing names on a business case. Names are part of the fabric of places."
Colin Davis, of Spelthorne Borough Council said the criticisms were ill-founded and misplaced.
"It's not going to cost anything as far as the borough council is concerned," he said. "The change itself is going to be paid for by the business community, to fund signs. Notepaper will be dealt with on a natural wastage basis."
He added: "We're not asking them [the football club] to change their name... Staines does have a reputation it does not deserve. All we want to do is to redress the positive side of Staines, not that there is actually a negative. It's a green, pleasant riverside environment."