Mother pining after puppies stolen from Lower Kingswood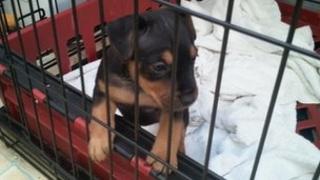 Four five-week old puppies, worth about £200 each, have been stolen from a house in Surrey.
The break-in at the house in Lower Kingswood happened on Wednesday evening during a power cut. The burglars also took a laptop containing family photos.
Owner of the Patterdale terrier puppies, Tracy Hooper, said their mother was pining for them.
"Our dog keeps sitting in the cage looking for them as she's still feeding the puppies," she said.
"I am totally devastated and just want the puppies back."
The three black and one black and tan puppies were stolen between 20:00 GMT and 20:29 GMT.
Det Con Kevin Booth appealed for anyone who had been offered a Patterdale terrier puppy for sale to contact police.
"We are concerned for the welfare of the puppies and want to reunite them with their owners," he said.
"We are doing all we can to reunite Miss Hooper and her six-year-old son with the puppies but we need the public's help."