Surrey County Council doubles its gritter fleet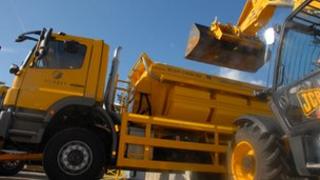 Surrey County Council has doubled the amount of gritters in its fleet in preparation for bad weather conditions.
Twenty-four new gritters have been added to the pool of available vehicles.
The vehicles have a new device which monitors how much salt is being spread, the rate it is being used and on which roads.
The council claims the new trucks mean an extra 110 miles of road will be regularly treated this winter.
The trucks are also fitted with technology that involves using a brine solution on the salt to help it work quicker on roads.
The gritting operation is part of a range of measures by the council to tackle severe weather this winter. Surrey's 17,000-tonne stockpile of salt is 4,000 more than last year.
Councillor Ian Lake said: "We've been planning for months to help keep Surrey's road network moving in ice and snow.
"Our salt barns are full, we have new gritters equipped with the latest technology and they're ready to hit the roads in bad weather."