Surrey hospitals merger bid 'progressing'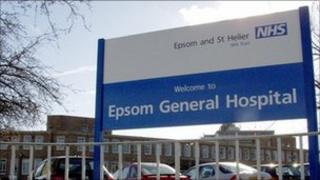 A Surrey NHS trust has confirmed plans to merge with Epsom Hospital are under way after another trust pulled out.
The chief executive of Ashford and St Peter's Hospitals, Andrew Liles, said the trust was continuing to prepare a bid and would submit it in November.
Earlier this month, the Royal Surrey County Hospital NHS Trust pulled out of a potential merger with Epsom.
Mr Liles said: "At this stage, we intend to submit our bid prior to applications closing on 11 November."
Public meetings
Mr Liles said: "We are continuing to prepare our bid to potentially partner Epsom Hospital, and to explore the benefits such a merger could bring to Surrey patients and to staff.
"In doing so, we are enjoying working with staff and stakeholders at Epsom to plan a long-term future for a new, successful NHS foundation trust."
Epsom and St Helier University Hospitals NHS Trust said public meetings had been arranged on Wednesday and also on 9 November so members of the public could find out more.
A statement said: "The project has now reached the stage at which potential partners are finalising their tenders, to be submitted on 11 November.
"Ashford and St Peter's Hospitals NHS Foundation Trust has expressed an interest in merging with Epsom Hospital, whilst St George's Healthcare NHS Trust has expressed an interest in St Helier."
Epsom and St Helier NHS has said it is not viable to become a foundation trust in its present form and is seeking to merge with another trust.
The government has scrapped a deadline for trusts to achieve foundation trust status by April 2014, but still expects the majority to become foundation trusts either on their own or through merger "as soon as clinically feasible".