Shepperton waste site claims misleading, says watchdog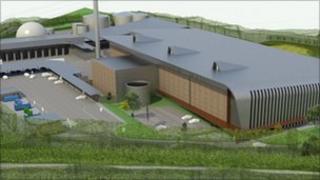 A Surrey waste disposal site's claims about new technology and emissions were misleading, the Advertising Standards Authority (ASA) has ruled.
Complaints by Shepperton resident Tracy Harris also included claims an artist's impression of a chimney in SITA's proposal for the town was inaccurate.
The ASA agreed saying "the image of the stack did not make clear that it would be up to 48 metres tall".
The claims were published in a SITA newsletter published in October 2010.
SITA said subsequent newsletters had given more up-to-date information.
Complaints upheld by the ASA related to misleading claims about the technology to be used at the plant, and emissions from similar plants.
'Greater opposition'
The ASA considered five complaints from Ms Harris.
She said: "Had residents been made aware of the real implications this facility will bring to Spelthorne, I am sure SITA would have faced far greater opposition than they have."
Ms Harris's claim that the tern "eco" used to describe the development was misleading was not upheld by the ASA.
SITA had responded that the facility would process household waste that would otherwise be sent to landfill.
The ASA did rule that Ms Harris's claim the word "gasifier" in the newsletter, which was used to describe incineration, was not misleading.