Pirbright's £100m animal research lab 'taking shape'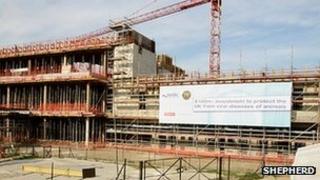 A topping-out ceremony has taken place at a £100m animal research lab.
Science minister David Willets led the ceremony at the Institute for Animal Health's (IAH) high-containment facility in Pirbright, Surrey.
The Biotechnology and Biological Sciences Research Council (BBSRC) said the project was on time, within budget and visibly taking shape.
The BBSRC, which is funding the project with the government, said more than 150 scientists would be based at the lab.
BBSRC chief executive, Professor Douglas Kell, said it would enable the institute to continue "ground-breaking" research into livestock diseases such as foot-and-mouth, bluetongue and African swine fever.
'Improved containment'
IAH director, Professor John Fazakerley, said the building would have "unrivalled facilities" to take forward research into what were "some of the most economically and socially important viruses on the planet".
He said the lab included "brand-new and improved approaches to high containment".
The building is expected to be fully-operational by 2014.
The Pirbright site was at the centre of an outbreak of foot-and-mouth disease in August 2007, which led to the slaughter of more than 2,100 animals in Surrey and Berkshire.
At the time, official investigations indicated the virus could have originated from the site, which was a base for the Institute for Animal Health and private firm Merial Animal Health Ltd.
No prosecutions were brought because Surrey County Council said there was a lack of evidence to pinpoint the exact source of the outbreak.