Surrey residents get planting 'guidelines' for Olympics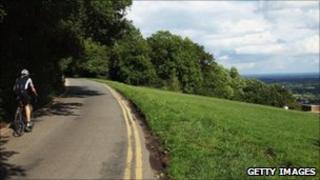 Guidance issued by a Surrey council on what flowers residents should plant along the route of a cycle race during London 2012 has been met with surprise.
Mole Valley Council forwarded advice to residents from the London Organising Committee for the Olympic Games.
Suggestions included a colour palette and a list of what flowers to use.
Mickleham parish councillors said they were surprised the issue was a priority for the council. The local authority said people had been asking for advice.
'Tight control'
Richard Roberts-Miller, parish council chairman, said there was no real planting space along the cycle race route in rural Surrey.
He said: "Most of the area around here is narrow country lanes, where there's either no footpath on either side, just hedges and banks and trees.
"We thought about where this would apply, and there's a pub and a shop which maybe could put up a hanging basket or something like that, but I can only think of two or three other houses that have got any gardens visible from the road anyway."
He added: "We were surprised that this had any priority for the district council."
'Not prescriptive guide'
The council email to residents said: "As many of you may know the London Organising Committee for the Olympic Games (Locog) have tight control over how the games will look."
It added: "As it is the time of year when many gardeners are making plans for next year, it seems appropriate to forward this guidance now."
Darren Mephan, chief executive of Mole Valley Council, said the local authority forwarded advice published by Locog to residents associations outlining the various colours, shapes and patterns of flowers which could be considered for display during the Olympic Games.
He said the cycle race provided a "wonderful opportunity" to promote the district.
A spokeswoman for Locog said: "We are a nation of brilliant gardeners and floral displays was just one idea in a list of fun and inexpensive ways to celebrate the Olympic Games and Paralympic Games coming to the UK.
"This is not a prescriptive guide but covers a range of ideas from bunting and street parties to athlete receptions and floral displays.
"We want to take advantage of this country's creativity not to dictate it."