'Scream' app among Surrey phone-in-space contest winners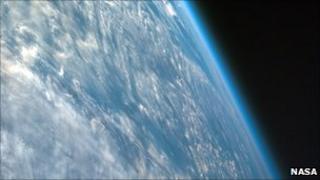 A phone app which will test a claim from the hit sci-fi movie Alien is being sent into orbit.
"Scream in Space!" was one of four winners in a competition run by Surrey university to create an app for a phone that will be fixed to a satellite.
The idea from Cambridge University students is based on Alien's tagline "In space, no one can hear you scream".
People will be able to load videos of their screams to a website linked to the app.
'Pretty cool stuff'
The most popular screams will then be played on the phone, using its speakers, when the satellite is in orbit.
The contest was launched in summer to find the four most creative, fun and not-for-profit apps to go on the phone.
Engineer Shaun Kenyon said: "After some tough judging, we've chosen the four winning apps and are really excited about what they will do in space.
"The apps make full use of the phone, meaning that we'll see some pretty cool stuff that hasn't been done before."
Another app by two entrants, Postcards from Space and "360", allows the public to use a website to request their own unique satellite image of earth.
The third winner, described as a "truly scientific" app, will record the magnitude of the magnetic field about the phone during orbit.
And the fourth winner will show scientific information about the satellite on the smartphone's display which can be viewed by an additional camera on board.