Staines name-change bid defended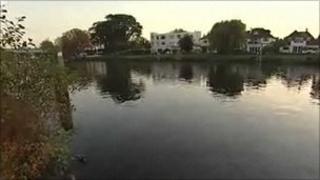 Plans to rename the Surrey town of Staines as Staines-upon-Thames have been defended by a councillor.
Councillor Colin Davis spoke out after questions were raised by the public in a Spelthorne council meeting.
He claimed those asking questions were opposing the name change and trying to disrupt the workings of the council.
Questions included whether there was evidence the name-change would boost the economy and whether wider regeneration had been considered.
'Rather irritating'
Mr Davis said questions asked at the meeting also included how much a survey of people's views of Staines had cost, and whether the council was following a recommended process.
After the meeting, Mr Davis said: "It is rather irritating that those who are asking these questions have already put out a leaflet of their own that not only implicitly advises residents to oppose the change but urges them to do so in a manner calculated to cause optimum disruption to the working of the council."
Responding to the questions, he said Staines had benefited from significant improvements to shopping facilities in the past 12 years and further improvements would be encouraged.
He said the survey had cost £1,100 and was paid for by the economic development theme group of the local strategic partnership.
"The Staines-upon-Thames proposal is an integral part of the process of increasing tourism and inward investment into the borough's flagship town centre," Mr Davis said.
"The name change will not on its own lead to significant changes to the economic prosperity of the borough, but it is a key component within the range of initiatives that are taking place."
The cabinet economic spokesman said: "Town names do not change that often and there is no government recommended process for doing so.
"In any event, a town name has no legal status so this is why the council is consulting with residents and businesses on the change of name."
Public consultation on the name-change runs until 31 October.