Surrey grandfather saved after almost fatal wasp sting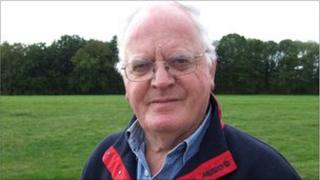 A Surrey grandfather has been saved by emergency services after a wasp sting almost killed him.
Retired engineer Robin Williams, 71, from Cranleigh, accidentally disturbed a wasps' nest in his roof.
He was stung twice on his his arm and finger and then immediately went into anaphylactic shock.
He said: "I remember walking from the kitchen to the lounge and that's the last thing I remember until the life-saving crew arrived."
"The treatment and care I received was second to none. The doctor explained that it was a near-death experience," he said.
"I've been stung many times before and the previous week I'd been stung on the thumb but had no adverse reaction other than being very uncomfortable."
Mr Williams was taken by ambulance to the Royal Surrey County Hospital in Guildford.
He was discharged the next day and now carries an EpiPen to counter the effects of another wasp sting.