Rock Paper Scissors UK champion from Woking for third year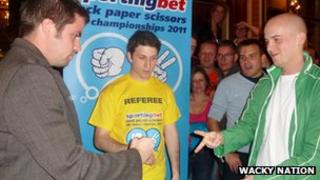 The UK Rock Paper Scissors Championship has been won by a competitor from Woking in Surrey for the third successive year.
Max Deeley, 25, won the individual championship against 127 other entrants in seven rounds.
Previous winners from the town are Paul Lewis (2010) and Nick Hembley (2009). The champions were unknown to each other.
Mr Deeley won the title in a final against Richard Ainsworth, from London.
As a hockey player and coach, Mr Deeley said he put his win down to his competitive spirit and adrenalin.
"When we were practicing I was dreadful," he said. "I don't think I won a game against my mates, but then suddenly you're in competition mode and all of a sudden it clicks."
After winning the best-of-three semi-final in just two moves, Mr Deeley beat Mr Ainsworth in the best-of-five final 3-1.
"I'd obviously got a feel for him after a couple of goes, but I really don't think I could do it if I wasn't competitive."