Lewes council row over 'unnecessary' tea and biscuits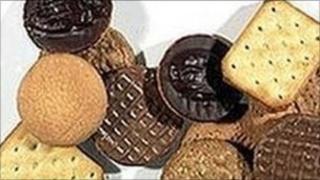 A row about tea and biscuits at council meetings in East Sussex has resurfaced after Liberal Democrats called for the "unnecessary expense" to be scrapped.
The refreshments, costing £600 a year, were withdrawn from full meetings of the then Liberal Democrat-controlled Lewes District Council in July 2010.
But in January the cost-cutting move was overturned after officials deemed it unreasonable to offer just water.
The Conservative-run council said the "inherited cost" was being addressed.
'Going rate'
It said the decision to initially stop providing the refreshments had not been a political one but had arisen after staff were asked for ideas on ways to save money.
Jugs of water were then provided as the only refreshment at council meetings held in July, September and December 2010, before the decision was overturned by senior officials.
The meetings are held at Pelham House, in Lewes, which a council spokeswoman said was a "private commercial venue" where "the going rate" for refreshments had to be paid.
The Liberal Democrats said they had originally removed the provision because it was "an unnecessary expense in these strict financial times".
Councillor Steve Saunders, deputy leader of the party, said: "I think just making this small concession and getting rid of this is just showing the way really.
"I think at the council we could certainly do without it."
However, Councillor James Page, Conservative deputy leader of the council, said: "Expecting up to 50 people to meet for two-and-a-half hours without any refreshment is not one that is considered a service improvement.
"That said, the inherited Lib Dem annual cost of £600 is being addressed by planning to move to a more appropriate meeting place.
"In the meantime the equivalent of 750 hours of council meetings attended by members of staff equates to less than 80p per hour.
"Our Lib Dem colleagues had no issue with taking refreshments at their meetings."