Anne Brummer to receive award for rescuing wildlife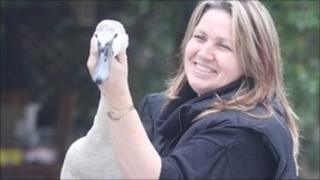 A Surrey woman who has rescued thousands of animals and birds is to receive a special recognition award.
Anne Brummer first began working with wildlife 25 years ago when she took care of a hedgehog.
She now runs Harper Asprey Wildlife Rescue Centre in Camberley which last year cared for more than 1,600 animals.
Ms Brummer will receive the Wildlife Rescue Award from the International Fund for Animal Welfare (IFAW) at the House of Lords on 18 October.
'Wonderful volunteers'
Robbie Marsland, UK director of IFAW, said: "We are very pleased to be able to reward Anne's amazing dedication to rescuing and caring for wild animals and birds over so many years and wanted to recognise her outstanding work with our Wildlife Rescue Award."
The Harper Asprey Wildlife Rescue Centre is supported by Queen's Brian May and runs on two sites, using land owned by Mr May, for long-term and specialist rehabilitation.
With Ms Brummer, there are 27 volunteers who help injured and orphaned wild animals and birds, nurturing them back to health and then releasing them back into the wild.
Ms Brummer said: "It's very exciting to receive such a prestigious award.
"I couldn't do what I do without the wonderful volunteers that work with me at Harper Asprey Wildlife Rescue, this award is for all 27 of us, I just love it."