Surrey County Council leader Andrew Povey stands down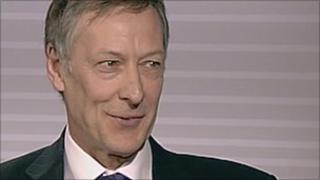 The leader of Surrey County Council has announced he is standing down - days after the resignation of his deputy.
Dr Andrew Povey said he had been proud of what the Conservative-led council had achieved during his leadership.
But he said he had come to a "crossroads in his life" and now wanted to develop his business interests.
Dr Povey also conceded there had been issues with his deputy David Hodge, and they had got to the point where they were "seeing things differently".
He said it had been a personal decision to leave his post, but that he would remain as leader until the next full council meeting on 11 October.
"I've probably been working 60 or 70 hours [a week] between running a business and leading the council and it's something I just don't think I can maintain," he added.
Of his differences with Mr Hodge, Dr Povey said they had worked together "extremely well" for two years, but had brought "different things to the table".
Dr Povey said: "It got to the point where we were seeing things differently... we have a different style, are very different people - that can be a strength, but I think it got to the point where it was going the other way."
'Fantastic job'
He said it was "not important" to say what he and Mr Hodge had disagreed over, but said that despite the differences, "we've done a fantastic job over the past two-and-a-quarter years, and made significant savings".
"I think we've brought the council on enormously... it's much better for the public to look back on all the positive things we've done together," he said.
In a statement issued earlier, Dr Povey said: "I am proud of what the council has achieved during my leadership and firmly believe the authority is well placed to become a truly world-class organisation.
"I believe the foundations we have set over the past two years mean the council can now go on to even greater things and whoever takes over as leader can look forward to my support as they continue this work."
Hazel Watson, leader of the Liberal Democrat group on the council, said the departure of both Dr Povey and Mr Hodge showed there were "clearly divisions within the administration".
She said there had been "a catalogue of disasters" over the past two years, including failure to keep the roads open during snow, library closures, and on street parking charges.
"All these divisions and internal wranglings are not going to help with getting policies right," she added.
"I hope that whoever is the new leader will see sense and actually listen to Surrey residents."