Model of lost Surrey Tudor palace unveiled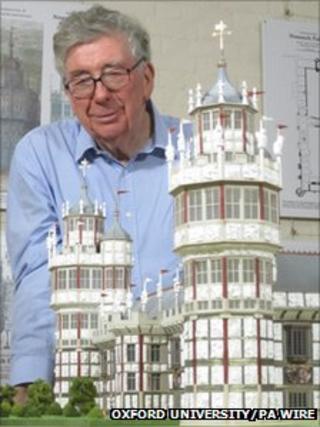 A model of a Surrey palace built by Henry VIII and that once symbolised the power and the grandeur of the Tudor dynasty is to be unveiled.
Nonsuch Palace in Cheam was constructed to rival those of the French King, Francis I.
It was demolished by a mistress of King Charles II in the late 17th century.
Research carried out by an Oxford University professor has now led to a 2.2m by 1.2m (7ft 2in by 3ft 11in) model of the palace being made.
Professor Martin Biddle, Emeritus Professor of Medieval Archaeology at Oxford, was an undergraduate when he directed the excavation of the site of the palace in 1959.
He analysed contemporary illustrations and archeologically evidence to provide the basis for the model made by Ben Taggart.
'House without equal'
Work started on Nonsuch Palace in 1538, six months after Jane Seymour gave birth to Henry VIII's son, later to be Edward VI.
Prof Biddle said: "From the start it was Henry's evident intention to celebrate the birth of long awaited male heir by building a house without equal."
"With the plan established, it is possible to attempt to accurately evaluate what the house looked like in its heyday.
"It had a decorative scheme which was more than 900 feet long, with a minimum average height of 24 feet, covering a surface of 21,600 square feet."
The model will be unveiled in the Friends of Nonsuch Museum and will be on public display between 17 September and 5 November.