Magna Carta visitor centre proposed for Runnymede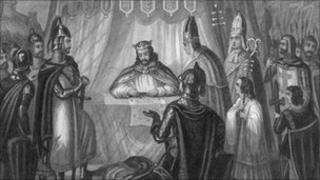 Plans for a visitor centre where the Magna Carta was sealed in Surrey almost 800 years ago have been put forward.
Runnymede Borough Council wants to hear from residents about plans for the "lasting legacy" ahead of the 800th anniversary in 2015.
The authority said the centre would complement the existing memorial site.
King John signed Magna Carta at Runnymede Meadow, near Egham, in 1215. It formed a peace treaty between King John and barons who were in revolt.
Copies of Magna Carta, which forms part of the common law of England, are held at the British Library and at Salisbury and Lincoln cathedrals.
As part of the anniversary celebrations, exhibitions of the Magna Carta are planned in the UK and Commonwealth.
The council is hosting a consultation on its proposal at the Chertsey Agricultural Show on Saturday and Sunday.