M25 in Surrey fully reopens after lorry crash shuts it for 24 hours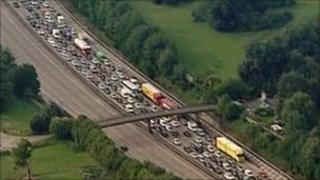 The M25 in Surrey has reopened in both directions after being shut for more than 24 hours following a crash in which a lorry hit the central reservation and collided with a car.
Three people were badly hurt in the crash, between junctions seven with the M23 and eight with the A217, on Friday.
Two clockwise lanes were reopened about 15:00 BST on Saturday and two lanes anti-clockwise at 18:30.
The motorway reopened fully at about 21:00.
Part of the M25's anticlockwise carriageway was blocked for a short time at about 07:15 on Sunday because of a van fire between junctions 10 at the Wisley Interchange and nine at Leatherhead. All lanes are now open.
Long delays were reported on Saturday on the M23 and A23 in Surrey, the A22 at Godstone, the A217 and Reigate town centre because of traffic unable to use the M25.
The crash caused the lorry, which went through the central reservation and hit a car on the opposite carriageway, to spill diesel on the anti-clockwise side and shed its load on the clockwise lanes.
The collision initially caused tailbacks of up to 28 miles on Friday afternoon.
A Nissan Micra, a Lexus and another vehicle were also involved in the incident, which happened just after 16:00 BST.
Some of the aluminium steel bales the lorry was carrying hit two cars.
Life-threatening injuries
The lorry driver suffered serious leg injuries and was airlifted to King's College Hospital, in south-east London.
The driver of the Micra also suffered serious leg injuries, while the front seat passenger in the car suffered life-threatening injuries and was airlifted to the Royal London Hospital.
Surrey Police said the passenger was in a "very critical" condition.
The bale also hit the Lexus, leaving the driver with minor injuries.
Hours after the crash, the Highways Agency said the lorry had been "in pieces" across the carriageways.
A spokesman said the carriageway had needed resurfacing because of diesel and other damage to the road.
Surrey Police is investigating the crash and have appealed for witnesses.