Chalkpit Quarry decision 'result' for Oxted residents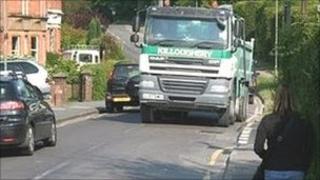 Residents who want to limit the number of lorries using narrow roads to get to a landfill quarry say they are delighted a review will go ahead.
Southern Gravel applied to the county council to postpone for 10 years a periodic review of planning conditions for the quarry in Oxted, Surrey.
The application was turned down after hundreds of objections and the review will take place as planned in 2012.
"It's a tremendous result for people power," said protester Phil Littleford.
"Residents from all over Oxted have bombarded the county council with letters.
"The current situation is a nightmare. It's fantastic news that we've been listened to."
Operating hours
Southern Gravel now has until 11 June next year to submit to the county council a scheme of new conditions for approval.
The council said the chalk quarry site, in Chalkpit Lane, had a history of complaints about HGV traffic since Southern Gravel took over in 2006.
It said that more recently there had been extensive evidence of concern from residents and many letters of objection been received to the postponement application.
Residents want new limits on lorry numbers and their size, operating hours and intervals between lorries.
They also want new speed limits, route changes and environmental safeguards.
Southern Gravel has said it polices hauliers using the site as much as it can and that if residents want to complain about a haulier they should take the numberplate and number and contact the haulier directly.