Godalming cleaner 'killed companion for money'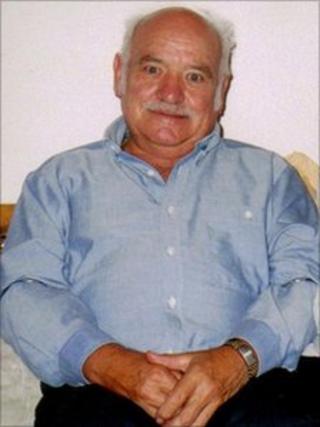 A cleaner from Surrey beat her 82-year-old companion over the head with a rounders bat before burying him naked in a shower curtain, a court has heard.
Ann Browning, 54, of Miltons Crescent, Ockford Ridge, Godalming, has admitted killing Bill Williamson last September.
She has pleaded guilty to murder but disputes the prosecution's case that the killing was financially motivated.
The hearing at Guildford Crown Court is taking place to determine her motive for the murder.
The defence argues the pair were close platonic friends and she killed the retired postman in a fit of anger after he changed his mind about living together.
Prosecuting, Richard Bendall said: "The crown's case is that this was a murder for financial gain."
The court heard within days of his death Ms Browning transferred £140,000 from their joint account into her personal account. The hearing was told he had an estate of well over £250,000.
'Stood on corpse'
Browning said she killed Mr Williamson during an argument and lashed out in anger after he said he had changed his mind about living together.
The court heard there was no dispute Browning hit Mr Williamson over the head, but she claimed she had not planned it.
Browning said she panicked after she realised he was dead.
"I was so frightened I just found myself digging this hole," she said.
"I stood on him to push his body down and used the spade to shovel soil on, then knelt down in the mud to scoop and dig soil to cover the body so it couldn't be seen."
Browning said she intended to confess the day after her son's wedding. She said: "I love my son so much I didn't want to spoil his happiness."
When asked why she transferred the £140,000, she said she was worried the bank was not stable.
'Lies and forgery'
And she said she was in love with Mr Williamson, describing him as "a lovely, sweet man, gentle and kind".
Mr Bendall said Browning told "elaborate lies" about Mr Williamson's whereabouts, including that he was in Ireland for a funeral and also forged documents to close a Royal Mail account in his name.
He said when she confessed the murder to police, she said she had been looking forward to Mr Williamson moving in, he had promised to help her, and she would not have to work as a cleaner any more.
The barrister told the court she said she had enlarged a hole in the garden where she had dug out the trunk of a tree.
Mr Bendall added: "If the grave was even partially dug in advance, the prosecution would say that suggests a degree of planning."
He also said Browning had no intention of starting a new life with Mr Williamson, the elderly man was "lonely" and "vulnerable", and Browning had seen him as a source of cash.
The hearing was adjourned until Friday.