Kylie Grimes loses Farnham pool damages claim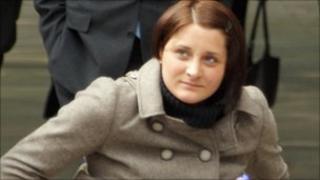 A woman who hit her head on the bottom of a swimming pool during a late-night party in Surrey has lost her claim for £6m damages in the High Court.
Kylie Grimes, now 23, of Farnham, was left paralysed from the chest down when she dived into the pool in August 2006.
The pool owner David Hawkins, of Compton Way, Farnham, denied liability and said he considered the pool safe.
Mrs Justice Thirlwall ruled in favour of Mr Hawkins, describing the pool as "not unsafe for diving".
Ms Grimes, of Stephendale Road, broke a vertebra below the base of her neck jumping into the pool.
'High spirits'
She claimed her injury was caused by Mr Hawkins's negligence or breach of his duties under the Occupiers' Liability Act but Mrs Justice Thirlwall ruled against her.
The court heard in May that Mr Hawkins and his wife were away on the night of the accident.
Their daughter Katie had asked her father to let her have a few friends over but a group of about 20 came back from the pub.
The judge said: "I have no doubt that some mature adults faced with a group of young adults in high spirits, some of whom had had too much to drink, would send them all home rather than allow any of them into a swimming pool.
"But that is not to say that the duty owed to [Ms Grimes] required the defendant to put the pool out of bounds that night."
She said that at the time of the accident, Ms Grimes was 18 and a healthy, athletic horsewoman who worked full-time at a local stables.
"As a result of the injuries she sustained that day she is tetraplegic," said the judge.
"Her mobility is hugely compromised. She uses a wheelchair. The impact on her life has been catastrophic."
The judge said she accepted Ms Grimes's evidence that she was not drunk.
"In my judgment either she misjudged the dive, or she misjudged the depth of the water, or she did both," she said.
She said she did not accept it was the responsibility of a householder with a private swimming pool to prohibit adults from diving into it.
"It may well be different where there is some hidden or unexpected hazard, but there was none here."