Chalkpit Quarry lorry traffic is 'going to kill somebody'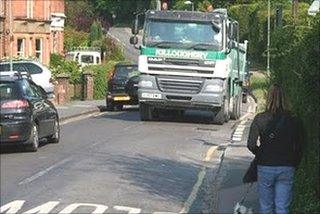 Landfill lorries are making the roads of Oxted in Surrey dangerous, residents have claimed.
Surrey County Council is reviewing Chalkpit Quarry's planning conditions, including the number of lorries allowed to travel to it.
Phil Littleford, of Chalkpit Lane, said: "They're going to kill somebody soon, there is going to be an accident."
Southern Gravel Ltd said it policed the hauliers as much as it could.
Mr Littleford said: "[The number of lorries] does vary but we know on a bad day we have 80 and we have had over 120 in a day.
"As well as the frequency - they're every few minutes at times - is that now we get them often in convoys of five or six and it's like having a load of tanks drive through your village."
Haulier complaints
Gina Mullet, who also lives in Oxted, said: "The pavements are very narrow and you have these huge, dangerous lorries rushing past you about 2ins from your shoulders. It's very intimidating."
A spokeswoman from Southern Gravel Ltd said if residents wanted to complain about a haulier they should take the number plate and number and contact the haulier directly.
Surrey County Council reopened Chalkpit Quarry in 2008 and a review of planning conditions is due to take place in June 2012.
Southern Gravel Ltd has requested the review is postponed for 10 years.
A Surrey County Council spokesman said: "The existing conditions have to clearly be fit for purpose for a further significant period of time. If not there are sound grounds to refuse the application for postponement.
"The onus is on the operator to demonstrate why existing conditions may remain in force.
"We are required to make a decision within three months of receipt of the application, but in reality we will be doing this much sooner, probably within the next few weeks."