Milly Dowler police officer removed over leak complaint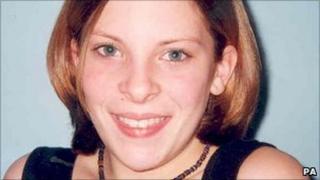 Surrey Police removed an officer from the inquiry into Milly Dowler's murder after claims he leaked confidential information, it has emerged.
The force said the detective constable received "words of advice".
Thirteen-year-old Milly disappeared as she walked home from school in Walton-on-Thames in 2002. Levi Bellfield was convicted of her murder in June 2011.
The Dowler's solicitor said they were "distraught" that such matters took place amid the hunt for their daughter.
'Inappropriate disclosure'
Surrey Police said the detective constable was "removed from working on the Operation Ruby [investigation into the murder of Milly Dowler] team in 2002 following concern raised by a colleague about the conduct of the officer".
"This related to the inappropriate disclosure of information about aspects of the investigation to a retired police officer friend," a force spokesman said.
"A serving colleague was told of the inappropriate disclosure by the person who had heard it, and immediately reported it to their senior management team."
Surrey Police said the officer "received words of advice and was removed permanently from the inquiry" the following day.
Earlier this month, News Corporation chairman Rupert Murdoch was forced to apologise to the Dowler family after it emerged the murdered schoolgirl's mobile phone was hacked by the News of the World in 2002.
It was claimed the paper intercepted messages left by relatives of the teenager and then deleted some it had already listened to when the voicemail facility became full, giving her family false hope that she was still alive.
The paper was shut down over revelations it repeatedly hacked into people's mobile phone messages.
Surrey Police said it had no evidence that the detective constable removed from the case had passed any information to the News of the World.
'Humbled and shaken'
The Dowler family's solicitor Mark Lewis said: "The Dowler family, Bob and Sally, have become aware in the last week of the fact that someone from the Surrey Police was removed from the initial investigation because of the leak of information.
"This is a very serious matter that will be investigated as part of the judge-backed public inquiry into the links between all police forces and the press.
"On a personal level they are distraught that such matters were taking place when the police were supposed to be looking for their daughter."
The Dowler family held talks with Mr Murdoch, as well as Prime Minister David Cameron, Labour leader Ed Miliband and Deputy Prime Minister Nick Clegg over the phone-hacking allegations.
The meeting between Mr Murdoch and Milly's parents and sister came on the day that Rebekah Brooks resigned as chief executive of News International.
In a statement following the meeting, Mr Lewis said Mr Murdoch "was humbled, shaken and sincere".
"This was something that had hit him on a personal level. He apologised many times and held his head in his hands."