Threatened Surrey libraries' opening hours face changes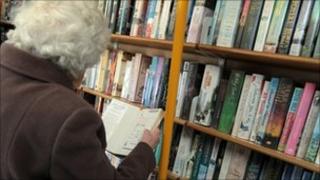 Radical changes to opening times could help save several libraries under threat in Surrey.
The county council has begun talks with communities in 11 areas where it wants to devolve day-to-day management of libraries it says are less well used.
Suggestions from interested groups include opening in commuter rush hours, making better use of buildings and staffing on days when normally closed.
Opponents say the savings would not justify the impact on library users.
Surrey needs to save more than £200m over four years, and councillors are hoping that devolving some responsibilities at some of their 52 libraries will help save £400,000 a year while avoiding the need to close any of them.
Parcel collection
A spokesman said: "Under the proposals the county council would continue to provide the building, stock, IT equipment and other services to support communities to take over the day-to-day running of their library so it can reflect the individual needs of local communities."
He said some groups had suggested a variety of changes to their local services which the council could not implement itself.
They include:
Rush-hour opening at Virginia Water after local people identified that as a key time for usage
Opening Byfleet beyond the usual Tuesdays, Fridays and Saturdays
Extending use of Warlingham to create a cultural and community centre
Allowing community activities in otherwise unused rooms
Running parcel-collection services
SCC said the 11 libraries accounted for just 8% of items borrowed from all libraries across the county, and just over 7% of all visits countywide in 2009-10.
They are: Ewell Court, Molesey, Stoneleigh, Tattenhams, New Haw, Warlingham, Byfleet, Bramley, Lingfield, Bagshot and Virginia Water.
Plans to axe the county's mobile-library are also the subject of a public consultation.