Titanic hero memorial in Godalming to be restored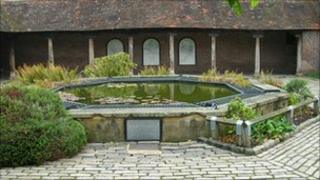 A memorial to the chief telegraphist on the Titanic is to be restored in time for the centenary of the sinking of the ship on its maiden voyage in 1912.
Jack Phillips, who was born in Godalming, Surrey stayed at his post as the ship went down, sending messages to the Carpathia to rescue survivors.
Phillips Memorial Park, in Godalming, is to receive £335,000 from the National Lottery for the restoration.
"Godalming is justifiably proud of Jack Phillips," said Councillor Roger Steel.
"He was an incredibly brave man and it is right that he should be remembered today.
"How appropriate it is, as we approach the 100th anniversary, that we can look forward to this exciting project which will be enjoyed by so many of Godalming's residents and visitors."
The passenger liner sank on its maiden voyage after hitting an iceberg en route from Southampton to New York in April 1912.
'Selfless individual'
The last signal sent by Jack Phillips was picked up at 2.17am, three minutes before the Titanic sank below the waves.
The memorial park runs alongside the River Wey and dates back to 1913, when the cloisters memorial was built.
The grant from the Heritage Lottery Fund and the Big Lottery Fund, will enable Waverley Borough Council to make extensive repairs to the memorial cloisters.
The council will also restore the original landscape and improve the pond and surrounding wildlife habitats.
Volunteers will be encouraged to help with a new park maintenance and management programme and weekend community activities.
They will also be trained in horticulture, garden design and plant identification.
A range of events is to be based around the park's Titanic connection.
"Jack Phillips has sealed his place in history as a selfless individual who gave his life to try and save others as the Titanic was going down," said South West Surrey MP, Culture Secretary Jeremy Hunt.
"It is wonderful to be able to honour him in this way."