Surrey Police face Olympic challenge with cycling race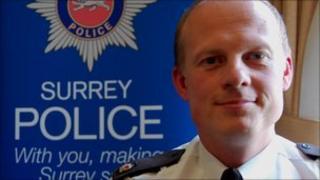 On the day after the London 2012 opening ceremony the eyes of the sporting world will be on Surrey.
The men's Olympic cycling road race will speed through much of the county as the world's top riders tackle the English countryside.
But the 156 mile course will pose several challenges, not just for the riders, but also police.
Such a long stretch of road is impossible to fence off and crowds will not have to buy tickets.
Terrorism
Supt Jerry Westerman, in charge of security during the race, said terrorism was the main concern.
He said: "With a stadium we have the ability to put up a fence, issue tickets and to search and screen people as they come into the venues, but we cannot do this with the road race."
Supt Westerman would not discuss the exact tactics officers would use during the games, but he said he had a "full range" at his disposal, including preventative intelligence.
"We will deploy all and anyone of these [tactics], we won't hold back," he said.
"The route may not have a fence, but if you can catch someone weeks in advance then that's better."
The race route takes cyclists from The Mall, through west London and then out to Surrey and back.
For the men's race it includes nine laps of Box Hill, a popular route for cyclists.
A test event, the London-Surrey Cycle Classic, is planned for August 14 and will attract many of the riders who will compete in the Olympics.
'Planning'
And according to Supt Westerman, it will give officers the chance to try out their command and control systems.
"Don't underestimate the number of spectators that come to this year's event," he said.
"There will be some top riders there.
"We will be deploying a significant number of police. The main objective would be command and control."
The route has come under criticism for the state of Surrey's roads, with some councillors claiming it would cost £400m to repair all the potholes.
But for Supt Westerman, his main concern will be on the security of the athletes and spectators.
"We've been planning this for two years and have another year to go," he said.
"We don't plan to enforce branding issues, if you're selling goods on the route.
"Your collar would be felt by someone else, not police officers. Our primary concern is safety and security."