Shepperton waste and recycle park extension approved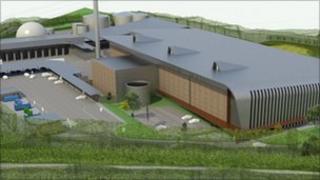 Controversial plans to extend a waste and recycling plant in Surrey have been approved by councillors.
SITA Surrey has been working on behalf of Surrey County Council (SCC) to develop the "eco park" at Charlton Lane, Shepperton.
The facility will feature a gasification chamber, which heats waste to produce gas for energy.
Residents living nearby expressed fears the extension would lead to increased pollution and traffic problems.
Household waste
Last year, they handed a 1,600-strong petition against the plans to SCC.
Borough councillors in Spelthorne also registered a "very strong objection".
They said said they could not support plans which did not satisfactorily show there were "very special circumstances" to build on a greenbelt site.
SCC said the plant would treat 60,000 tonnes of household waste each year, while an anaerobic digestion facility would dispose of 40,000 tonnes of food waste.
The council said sending waste to landfill costs Surrey taxpayers about £600,000 every month and damages the environment.
Councillors on the planning committee approved the proposal on Thursday.
The decision will now be referred to the government for final approval.