Your Paintings: Titanic's telegraphist Jack Philips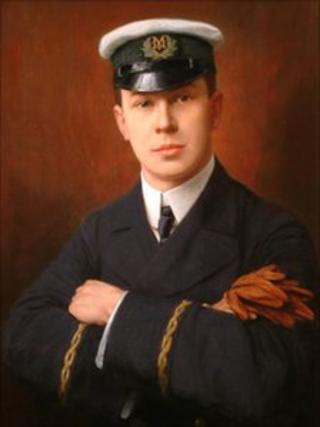 A painting on display in Godalming Museum is one of thousands selected to be part of a major nationwide project called Your Paintings.
The painting is of Jack Philips, who was born in Godalming, and was the chief telegraphist on the Titanic.
The portrait was done by Martin Ellis in 1912 after Jack's death and was copied from a photograph.
It will appear on the Your Paintings website, which is a partnership between the BBC and The Public Catalogue Foundation.
The UK has an outstanding national art collection of 200,000 oil paintings, held in a vast range of public institutions.
But though they are owned by UK publicly-funded organisations, 80% of the paintings are not on display. They are either hidden away in storage, or are in buildings that the public cannot access.
'Last signal'
The BBC, in partnership with The Public Catalogue Foundation and collections across the UK, is launching the groundbreaking Your Paintings website in summer 2011.
After the Titanic struck the iceberg, Jack remained at his post as the ship went down, sending messages to the Carpathia to rescue survivors.
John Young, who is a volunteer at Godalming Museum, said: "He stayed at his post even after the captain had relieved him of his duties.
"That is proved because his last signal was picked up at 2.17am and the Titanic went below the waves three minutes later."
The painting was commissioned by pupils from his old school and is owned by Godalming Town Council.