Camberley mosque plan rejected by planning inspector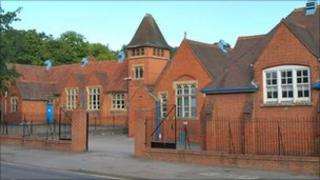 Controversial plans to redevelop a mosque in Camberley have been rejected by a planning inspector.
The decision followed a seven-day public inquiry held in April over plans to replace a listed Victorian school with a domed mosque and minaret.
Members of the Bengali Welfare Association (BWA), who have used the school as a mosque since 1996, said the current building insufficiently caters for worshippers.
But opponents said Camberley's heritage was at risk of the plans to replace the building.
'Enormous relief'
The plans were originally rejected by Surrey Heath Borough Council in 2010, but this decision was appealed by the BWA.
A public inquiry held in Camberley Theatre resulted in inspector John Gray rejecting the plans.
Melanie Longden, from Save Our School, a campaign group set up to oppose the proposals, said: "It's an enormous relief for all the people that supported Save Our School and wanted that building preserved.
"I have been very sad when there have been any accusations that this is a result of anti-Muslim feeling. That's not accurate.
"These buildings are and have been such a familiar part of Camberley that the notion of them being lost struck a chord with people."
'Review decision'
The building was originally home to Yorktown infants and primary schools, before later becoming St Gregory's Roman Catholic School.
When it closed it was sold to the BWA and has been used as an Islamic centre since 1996.
Abdul Wasey Chowdrey, of BWA, said the group would have to "digest" the result before making any decision about future plans.
"I'm very disappointed and frustrated, but that is the result," he said.
"I thought the inquiry went very well and we left with a very good feeling.
"We have to wait to review that decision and see what the community wants."