Redhill airfield bids to build hard runway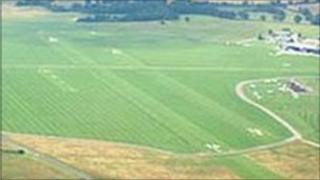 The owners of a grass airfield in Surrey have said they plan to submit an application to build a hard runway.
Redhill Aerodrome, near South Nutfield, is to apply for planning permission to replace its three grass runways with a Tarmac one to allow all-weather flying.
Many local residents are against the scheme, which they fear will lead to further development on the site, which occupies greenbelt land.
The airfield is home to more than 20 companies, employing about 350 people.
Chris Hoskins from the Nutfield Conservation Society said: "The main concern is it's a greenbelt site.
"We are concerned that we will see this development creeping in there and then a hard runway will potentially lead on to other facilities - increased buildings."
Jon Horne, chief executive of Redhill Aerodrome Ventures said: "Currently there is no limit [on the number of flights] but we have said we will enter a planning agreement that would limit flights to 85,000 in any one year.
"What we have is an airfield business that has been there for 80 years. The grass runways can be unusable for up to four months of the year because they become waterlogged."
The aerodrome said it would submit the application in July and would not expect a decision until November at the earliest.