Henry 'The Fonz' Winkler visits Surrey School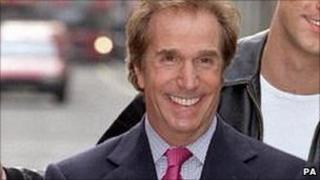 Henry "The Fonz" Winkler has visited a school in Ottershaw in Surrey as part of a nationwide tour.
The star of 70s TV series Happy Days talked to school children at Meath School.
Winkler is dyslexic and struggled at school. He hopes to encourage children with learning difficulties.
"School was unbelievably hard for me. Teachers didn't know what dyslexia was at that time. So I was labelled a troublemaker," he said.
"I was told I was stupid, lazy and not living up to my potential most of my life. And, when you're younger and you're told that, you believe it. It's part of your self image.
"Just because we learn differently, that does not mean that we are not incredibly smart human beings. That's something I need every child to understand."
Winkler has written a series of children's books about a boy with dyslexia and has been honoured for his work with children with learning difficulties.
The tour is part of the First News My Way! campaign to raise awareness of the needs of children in UK schools with learning challenges.
During the tour Winkler will introduce children to his Hank Zipzer stories and he will be accompanied by Nicky Cox, editor of First News - a children's newspaper.
Mr Winkler will also be attending a reception in his honour at 11 Downing Street on 21 June.