Epsom Hospital redevelopment put on hold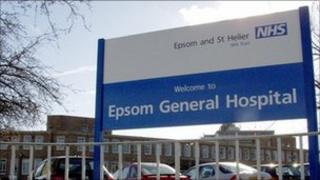 The planned redevelopment of a Surrey hospital has been put on hold while the NHS trust it comes under seeks to achieve foundation status.
In 2009, about £70m was earmarked to redevelop Epsom Hospital and improve older buildings and the infrastructure.
It comes under Epsom and St Helier University Hospitals NHS Trust, which could be merged with other facilities.
Communications director Antony Tiernan said nothing could be done until it was known who would be running the trust.
The trust has existed in its current form for 12 years and is made up of Epsom, St Helier and Sutton hospitals, and Queen Mary's Hospital for Children.
It serves about 700,000 patients every year and is one of the largest employers locally, with nearly 5,000 staff.
'Longer term future'
The trust is covered by two different PCTs - NHS Surrey and Sutton and Merton NHS.
However, its future is unclear as it is considering whether the union between the two hospitals should come to an end and there should be a de-merger.
The trust's board decided in December that it was not financially feasible for it to become a foundation trust in its present form.
The government requires all hospitals to achieve foundation status by 2014.
Foundation hospitals have greater financial freedom over their budgets but must prove they can meet NHS performance standards and are financially sustainable.
Mr Tiernan said there was constant investment in Epsom Hospital and the issue was about looking at its longer term future.
"This isn't about services on the site, this is about the shape of the site and upgrading buildings."