John Terry's car 'had tracking device attached'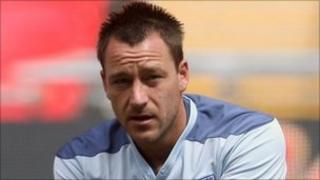 England football captain John Terry's car had an electronic tracking device placed on it, a lawyer who represented him over a speeding offence has said.
Terry has been banned from driving for 28 days after admitting speeding at 77mph in a 50mph zone in Hook, Surrey.
But the lawyer who represented him at Staines Magistrates Court said police found the device under his car.
Terry's lawyer, Nick Freeman, said he had been pursued by two photographers on motorbikes when caught speeding.
Freeman has become known as Mr Loophole for helping a string of celebrity clients evade driving bans.
'A target'
Speaking after the case, which saw Terry banned from driving and fined £750, he said he had told magistrates Terry had been concerned for the safety of his son and daughter.
"He was the number one target for paparazzi," he said.
"He accepts he is a target and they have a job to do but because of the level of attention he had been receiving for several months, he made a complaint to police.
"Police swept his vehicle and found an electronic device that would have assisted whoever planted it there in knowing his whereabouts."
Terry was not present in court as he is on holiday overseas with his wife Toni Poole.
The speeding offence was committed on the A3 in Surrey on 29 December last year.
A court official confirmed the case was heard in his absence and said the guilty plea had been entered on 1 June.