Surrey Police Muslim group aims to build trust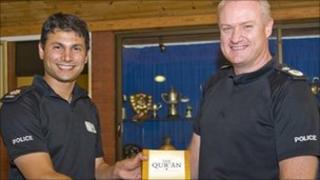 Improving understanding of Islam and and encouraging more Muslims to join the force will be top of the agenda for a new Surrey Police association.
Surrey Association of Muslim Police (Samp) also aims to build trust between the Muslim community and police.
The group, set up by 18 Muslim officers and staff working for Surrey Police, has elected Pc Kamran Yaqub, based in Reigate and Banstead, as its chairman.
"Surrey is one of the best counties to live in and work for," he said.
"But there is always a need to work with different parts of the community.
"We already have a Christian association, a women's association, a black association and now we have a Muslim association."
He said Samp would be supporting educational organisations, including universities, colleges and schools, to build an understanding of Islam and tackle misconceptions about the faith.
"We have a very, very crucial role in the future in addressing this issue," he told BBC Surrey.
An inauguration ceremony was held last week at Surrey Police HQ in Guildford.
Deputy Chief Constable Craig Denholm, who was presented with a translation of the Koran, said: "The association will perform a very important role internally and help to increase community cohesion through positive engagement."