Surrey Police arrest six at Epsom Derby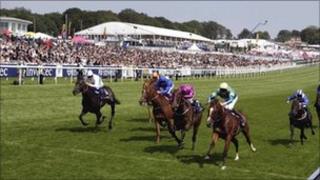 Six arrests were made during Derby Day at Epsom which was attended by about 100,000 race-goers, police have said.
Officers said that the event, which sees the largest gathering of people in Surrey each year, took place without any major incidents.
Two men were arrested for drugs offences, one for assault, one for causing ABH, and two for affray.
Surrey Police said it was a small number of arrests given the large crowd who were enjoying the hot weather.
One traffic incident was reported after a woman in her 30s was injured when she fell from her bicycle on to a road near the course.
'Huge event'
In a witness appeal, police said she was cycling in a group of six people in a busy area when the incident happened just before 1615 BST in Ashley Road.
Supt Rachel Tills said: "We have had another successful Derby festival and the vast majority of the crowd have had an enjoyable day out in the warm weather.
"The Derby is a huge event and extensive planning goes on every year to ensure it is run smoothly. We have had a handful of arrests but the event has passed without any major incident."
She said police maintained an increased presence in the area after the event to ensure race-goers travelled home safely and any disruption was kept to a minimum.
The event was one of the most prestigious occasions in the sporting calendar and services were provided by a large number of professional stewards and private security staff supported by the police, she added.
The event was this year attended by the Queen and 10 other members of the royal family.