Surrey school plans to put CCTV cameras in pupils' loos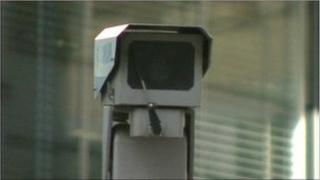 A secondary school in Surrey is planning to install CCTV cameras in the communal area of its pupils' toilets.
Ash Manor School, near Aldershot, said the proposals were part of its "commitment to safeguarding" and that pupil privacy was not at risk.
One parent took his three children out of the school when a temporary camera was installed as an experiment.
He also reported it to Surrey Police, who say they have received "a number of calls" from concerned parents.
Jason West said he was "horrified" when his son came home and mentioned the cameras.
"I just couldn't believe what I was hearing," he added. "No children want to go to school and be bullied, but I don't agree with having cameras within the four walls of the toilet area."
Head teacher David Garrido has not confirmed whether the plans are in response to a bullying problem.
In a statement the school said: "The idea of installing CCTV is part of our on-going commitment to safeguarding. The cameras would point at the communal area only of the toilet facility, showing the wash basins and entrance. They would not show any urinals or look into any of the cubicles."
Surrey Police has been in contact with the school since it received news of the cameras.
Guildford neighbourhood commander Alan Sproston said: "Installing a camera is not a criminal offence but neighbourhood officers have visited the school and given advice to the headmaster.
"It is the school's responsibility to justify the installation of cameras within their grounds."
The school has said it will only install cameras permanently if the majority of parents support the plans.