Frank Lampard driving ban cut after A3 speeding offence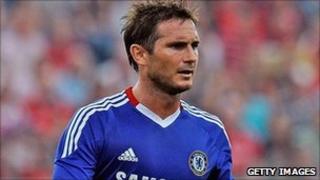 England and Chelsea footballer Frank Lampard has had a 90-day driving ban reduced to 60 days after he drove at more than 90mph on the A3 in Surrey.
At a previous hearing he had admitted speeding in a 50mph zone in his Range Rover at Claygate.
A Guildford Crown Court official said an application to reduce the sentence was allowed at a hearing on Thursday.
The midfielder's driving ban is now due to expire in five days' time. Lampard did not appear at the hearing.
At his original sentencing at Staines Magistrates' Court in March, Lampard was banned from driving for 90 days, fined £850, and ordered to pay £2,300 costs.
He had been clocked driving towards London at 91mph in March 2010.