Red phone box in Horsley turned into library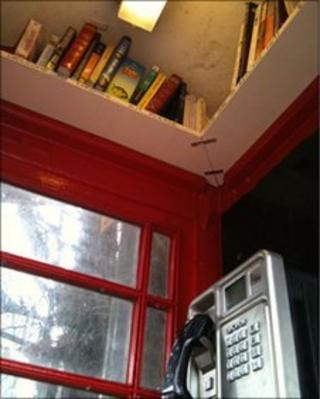 A Surrey man has filled his local red phone box with books so it can be used as a library.
James Econs, 27, said he believed nobody was using the box at the corner of Kingston Avenue, Horsley, to make calls.
He donated his own books and was given more by friends and relatives for others to borrow, read and then return.
BT said it was a creative way for the phone box to become part of the community.
Mr Econs said he got "absolutely nothing" out of it apart from the pleasure of giving something to others.
'Rat race'
He said: "I used to work up in the City [of London] and I used to pass this box all the time.
"Once I escaped the city and the rat race I found myself with a lot more time on my hands and ideas kept coming to me, and this was one of them."
He said he did not know who was coming in to borrow the books but he had noticed six new books had been put in the phone box in the past week.
He added he had not received any complaints about what he had done and was hoping to create a similar library in a phone box in east London.
In a statement BT, which operates phone boxes, said: "We are not aware of this happening at this particular phone box, but it does demonstrate the great ideas people have and the creative ways these boxes can continue to be part of the community.
"If this phone box is a traditional red box, we could encourage the local area to consider adopting it."