Surrey highways deal sets pothole target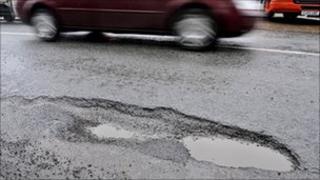 A six-year road maintenance contract has been agreed in Surrey including a fresh target for repairing potholes across the county.
Surrey County Council said a deal had been agreed with contractor May Gurney.
As part of the agreement, May Gurney will make safe 30,000 potholes each year within 24 hours of them being reported, the local authority said.
Under the previous highways contract, the deal was 19,000 potholes had to be filled each year within seven days.
Penalty clauses
Potholes will be prioritised for permanent repair within 28 days based on the size, depth and potential hazard.
The council said the contract, worth £60m, had brought a £4.1m annual saving on the previous highways deal.
It said penalty clauses were in place if May Gurney did not meet standards set by the council.
Work to be carried out also included resurfacing more than 440 stretches of road in the first year.
The firm would also take responsibility for cycle paths, pavements, drainage and street signs, the council added.
After being named as the preferred bidder, May Gurney said it would simplify the process for identifying potholes and use systems that could track the progress of repairs.
The firm also said it would be working with other councils across the South East to find any economies of scale that could bring savings.
Earlier this year, Surrey County Council revealed about £400m was needed to bring Surrey's road network up to scratch.
London 2012 organisers had demanded repairs before the Olympics cycle race passes through the county next year.