Surrey fire crews tackle three grass fires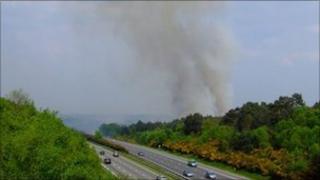 Fire crews have tackled three fires in one afternoon in Surrey's rural areas.
Eight hectares of undergrowth were damaged in a fire tackled by 10 crews at Tarmac Hill, Camberley, at 1330 BST, Surrey Fire and Rescue Service said.
Six fire engines were sent to a fire on Elstead Common at 1420 BST. Crews were still at the scene on Monday evening.
Six crews were also sent to Lightwater Country Park where a fire spread across three hectares of undergrowth and also spread to the M3 central reservation.
The park is next to the motorway and the southbound carriageway was temporarily closed between junctions three and four, during the incident at about 1350 BST.
Crews quickly extinguished the fire on the central reservation, and all but one lane reopened, a fire service spokesman said.
He said the cause of the fires had not yet been established.
No-one was hurt and no property was damaged in the incidents.
People have been urged to take extra care while out in the countryside during the warm weather.