Smiley Culture death: Family call for public inquiry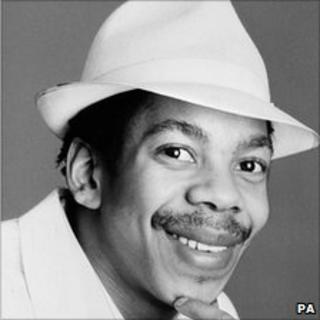 About 1,000 supporters and family of the singer Smiley Culture have marched to Scotland Yard calling for a public inquiry into his death.
The 80s reggae artist died from a stab wound while in police custody during a raid at his home in Surrey on 15 March.
The family accused police of failing to explain the death of the singer, whose real name was David Emmanuel.
They were told he stabbed himself while making a cup of tea, despite officers still being in his home in Warlingham.
The Independent Police Complaints Commission (IPCC) launched an investigation into the death but there were angry scenes when it was raised at a recent Metropolitan Police Authority (MPA) meeting.
Mr Emmanuel's nephew, Merlin Emmanuel, 40, who grew up with the singer, said: "We just really want to know how, how our loved one died and get to the truth of it.
"It really is quite simple - it's not complicated at all."
Family and friends of the singer, and campaigners, marched from Wandsworth Road, in south London to Scotland Yard, crossing Lambeth Bridge and passing the Houses of Parliament along the way.
Earlier, Merlin said: "Smiley was allowed into the kitchen to make tea. This was a national crime taskforce. They would have known this was a serious crime. They have gone into the house and let Smiley into the kitchen where they've got utensils and whatever else underneath and hot water.
"It beggars belief that they would have allowed him under such circumstances to do that."
His family say his "unnatural death" demands a proper inquiry.
Smiley Culture's biggest hit was the 1984 song Police Officer, which reached number 12 in the UK charts. His other singles included Cockney Translation and Schooltime Chronicle.
He had been due to face trial accused of conspiracy to supply cocaine.