Harlequin Theatre in Redhill gets £300,000 cash boost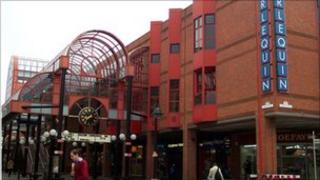 An extra £300,000 in council cash has been found to put toward the refurbishment of a theatre in Surrey.
Reigate council said the Harlequin Theatre in Redhill was a cornerstone of the community and pivotal to the regeneration of the town.
The council had already allocated a capital grant of £639,000 to the revamp of the theatre and cinema building.
A spokeswoman for the local authority said the extra cash would make the first grant go a lot further.
The council said the £639,000 grant had been budgeted for in its corporate plan, and the extra £300,000 was being moved from other capital budgets.
The Harlequin Theatre, which is owned and managed by the council, also receives £400,000 a year from the local authority for its running costs.
After the extra money was approved, councillor Adam De Save said: "We are undertaking a programme of regeneration in Redhill and the Harlequin is pivotal to that."
The cabinet spokesman for leisure added: "It's also a cornerstone of the community. It is a very important community facility."
The council said the theatre was built 25 years ago and the facilities needed modernising.
Under the plans, mechanical and electrical works will be carried out, public areas will be refurbished, and catering equipment replaced.
Minor roof and gutter repairs will also be undertaken to make the building water-tight, and a more efficient heating and ventilation system will be installed.