Firewood thefts 'on the increase' in Surrey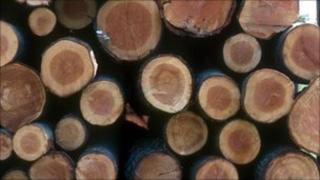 A Surrey council is urging the public to be on the look-out for stolen firewood after a spate of thefts.
Waverley Council recently reported thefts of 30 tonnes of wood from its land on Wonersh Common to the police.
"We are noticing more thefts of timber from our land - often at night," said Jane Bowden, from the council.
"People may think picking up some fallen wood is OK but it is actually theft as the timber belongs to the land owner."
Ms Bowden, Waverley's countryside manager, said the council was aware of people using chainsaws to cut up large logs or even felling trees at the roadside without permission.
The council said it sold some of its timber to help cover the cost of managing its woodland, and some fallen trees were left to benefit wildlife.
"If you see anybody removing fallen timber or suspicious activity please report it to the police," said Ms Bowden.