Surrey 'cycling town' bans bikes from town centre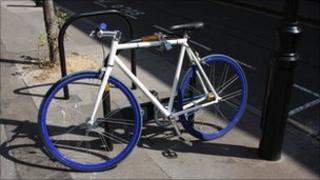 Cyclists in one of the UK's designated "cycling towns" are facing a daytime ban from the town centre.
Surrey county councillors have voted to scrap shared use of parts of the centre of Woking by cyclists and pedestrians during the day.
They cited safety concerns, although the scheme has been operating without major incident for two years.
But Councillor Will Forster says the decision undermines Woking's bid to become more cycle friendly.
The town received funding to improve its cycling facilities in 2008 and became one of 11 UK areas to be designated a "cycling town".
'Out of touch'
Councillors made a trial system of shared routes in parts of the town centre permanent in September 2010 after there were no "incidents" reported by pedestrians or cyclists.
However, following a lengthy consultation period, council officers recommended restricting cyclists' use of part of the town-centre route, banning bikes from Town Square between 1030 and 1600 BST.
When councillors considered the recommendation, they decided to extend the restrictions to nearby Gloucester Walk and most of Commercial Way during the daytime.
Mr Forster was one of those who voted against the decision, accusing his colleagues of being misguided and out of touch.
He said: "There [will be] no safe cycling route through the town centre in peak times."
A spokesman for Surrey County Council said the decision - which is subject to confirmation of the necessary traffic orders - would protect shoppers while still allowing cyclists access during commuter peak times.
Chief executive of Surrey Disabled People's Partnership Clive Wood described the decision as a partial victory.
He said: "The committee members have recognised the legitimate concerns vulnerable pedestrians have about sharing a pedestrianised area with cyclists."