Healthcare at HMP Bronzefield in Ashford criticised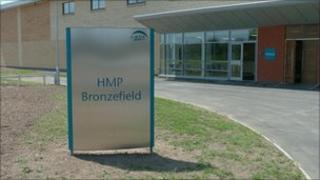 The standard of healthcare at a women's prison in Surrey has been criticised by inspectors.
Nick Hardwick, the Chief Inspector of Prisons, said on the whole there was a "generally positive picture" at HMP Bronzefield in Ashford.
But he said the "major exception" was healthcare, which he described as "shockingly poor".
The National Offender Management Service (NOMS) said improvements were now being made.
Inspectors made an unannounced visit to the prison last October.
Mr Hardwick said the prison, which holds 500 women, "did a difficult job well".
But he added: "The one major exception to this generally positive picture was healthcare, which was shockingly poor.
'Utter inadequacy'
"It was surprising that this should be so given the obvious needs of the women."
Mr Hardwick there had been a "shocking level" of self-harm" at the prison, with an average of seven incidents a day in the previous 12 months.
He said there were no female doctors, pharmacy services were "tortuous and inconsistent" and the appointment system was "unnecessarily complicated".
Juliet Lyon, the director of the Prison Reform Trust, said: "This generally positive report shines a clear light on the utter inadequacy of healthcare provision at HMP Bronzefield.
Michael Spurr, the chief executive officer of the NOMS, said the prison provided a "supportive and structured environment".
"Work to improve healthcare at the establishment is already under way," he added.