Crossing point over A3 Hindhead tunnel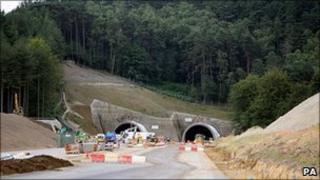 A crossing point has been built across the £371m Hindhead tunnel which is due to open in Surrey this summer.
The path, for use by walkers and horse riders, was built to link together two areas of countryside.
Thousands of cars and lorries are expected to use the 1.2 mile (1.9km) road tunnel on the A3 London to Portsmouth route each day.
The existing A3, which skirts the Devil's Punch Bowl, will be returned to nature after the new road opens.
Protected heathland
The crossing point, described by planners as a bridge over the tunnel structure and called the Miss James Bridge, has been earthed over and planted to provide a link between the areas of countryside for wildlife as well as people.
Roads Minister Mike Penning said: "The care we have taken in trying to ensure recreational paths are preserved - embodied by this new feature bridge - is big part of the legacy of the Hindhead Tunnel."
David Kennington, from the National Trust, said the charity had asked for the Miss James Bridge, which links two parts of the Miss James Walk, to be built at the start of the planning process.
He said: "We know how important this access between Tyndall's Wood and the rest of Nutcombe Valley will be."
The dual carriageway tunnel has been built to relieve traffic bottlenecks in the area and keep vehicles away from the Devil's Punch Bowl, which is a site of special scientific interest and a special protection area for wild birds conservation.
The tunnel is expected to keep 30,000 vehicles a day from the heathland site.