Unsigned acts to get support during Surrey's Guilfest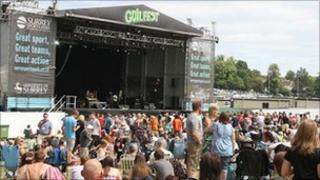 The nights are getting longer, the sun is trying to shine and so we look forward to a long, hot summer of music and the festival season that comes with it.
While we are doing our bit on the radio to bring the freshest new talent from the South direct to your ears, one of the events which is working hard to champion the plethora of amazing unsigned acts in the area is Guilfest.
Taking place this year from 15 to 17 July, Guilfest 2011 looks to be the biggest one yet.
It will have over two hundred live acts and DJs performing on seven stages across the festival site in Guildford, including the Acoustic Lounge and the two unsigned LiveClub stages.
Origins
Organiser Tony Scott was involved in staging the very first Guilfest in 1992. He said: "We did the first one on a Bank Holiday Monday in August, as we weren't allowed to do the Saturday because it was a big shopping day in Guildford, and Sunday was a day of rest, so that was the only day we could do.
"The time was mid-day to 7 o'clock in the evening, with Peter Sarstedt as a headline act, and a fiver to get in."
While the 2011 headline acts include Public Image Ltd, Erasure and Razorlight, it is those smaller stages where you will find the best up and coming acts from the South - and you can say where you saw them first.
Fledgling performances
Previous festival-goers may have witnessed fledgling performances from The Darkness, Newton Faulkner, and even James Blunt's first gig, while popular local acts The Toniks, The Dirty Disco and Subsource have all graced Guilfest's stages.
Tony told BBC Introducing that local acts are an important part of the festival.
"We have lots of new bands, mainly from the local area," he said. "It gives them a chance to play on a proper stage to a proper audience, and it's amazing the amount of impetus a band can get from playing here."
Over the past two decades, Guilfest has grown from an event attracting a thousand people, to a full-blown weekend firmly on the festival map with 20,000 punters through the gate, without losing sight of its roots in Guildford's community and its family-friendly nature.