Guildford station site to be redeveloped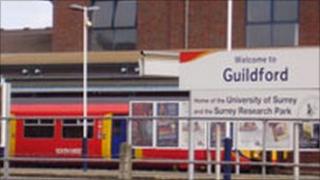 Residents of a Surrey town have welcomed plans for a multimillion-pound housing and commercial redevelopment at its railway station.
A hotel, business and shopping areas, a public square and better access to the town centre are among suggestions being considered for the land.
Solum Regeneration, a joint venture between Network Rail and Kier Property, is behind the scheme.
The Guildford Society said a mixed development would be good for the town.
"We think it is a shame that so much space near the station is just used for surface car parking," said vice chairman Dr John Baylis.
"There must be a better use for this land which would benefit Guildford considerably."
Road constraints
He said the society particularly wanted to see a better route for pedestrians between the station and the town centre.
But he said the site was visible from many places in the town and the society did not want to see tall blocks of offices or housing.
And he said the site suffered from road constraints.
"The station is only served by Walnut Tree Close and the exit to the gyratory is very poor."
Residents are being asked for their input at a public exhibition at the Guildhall in Guildford High Street on Friday and Saturday.
Guildford is one of several stations being developed in London and the South East as part of a £500m programme over the next 10 years.
Solum is already developing Epsom station with a new ticket office, shops, flats and a hotel which are expected to be completed by June 2012.
It said in a statement: "We are really excited to be talking about developing the land around Guildford station and have already had many people welcoming our investment.
"Making such large investments brings big benefits but it does require hard work.
"In Epsom we have worked closely with the community and council on a building programme which minimises disruption as far as possible.
"We will be working closely with Guildford people as we put our plans together."